This is an archived article and the information in the article may be outdated. Please look at the time stamp on the story to see when it was last updated.
FAYETTEVILLE, AK — Who could forget the chick dubbed the Eyeshadow Bandit? Her colorful mugshot instantly went viral last month when she got caught stealing $144 worth of makeup.
Well, she's back in an Arkansas jail. Not for her love of makeup though. This time, Brandi Allen was caught trying to steal electronics from Wally World aka Walmart.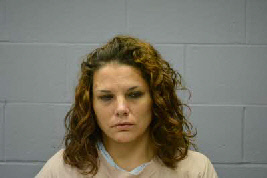 Store employees say they watched Allen on surveillance cameras as she strolled out the store with a cart full of stuff — a tablet, a computer, toys and baby clothes.
She didn't get too far though.
Police approached her in the parking lot and say she immediately yelled — "I did not do anything" — then tried to make a run for it.
They caught her. Allen's now in jail and being held on a $7,500 bond, where she won't be able to play with eyeshadow for quite some time. Her next court date is set for Nov. 3.