This is an archived article and the information in the article may be outdated. Please look at the time stamp on the story to see when it was last updated.
EULESS, Texas — Euless should've been a safe bet for Officer David Hofer. A 5-year veteran of the NYPD, the 29-year-old came south to Texas, joining a force that had just one officer in its entire history killed in the line of duty.
Officer Hofer had a job, a fiancée, and a future.
Now, he's being remembered with flags at half-staff and a makeshift memorial in front of the police department.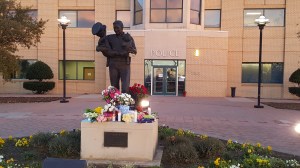 "He was so sweet, so good hearted," a Bedford PD employee who didn't want to be identified said. "There's not anything bad to say about him. He just loved what he did. There's no sense in this."
Officer Hofer responded to a suspicious person call at J.A. Carr Park in Euless Tuesday.
"Boom, boom, boom and it paused," a witness told NewsFix. "Then boom, boom, boom again. Then it paused and boom, boom, boom again."
The alleged shooter has been identified as 22-year-old Jorge Gonzalez. After cops say he shot Officer Hofer, Gonzalez was killed by a hail of bullets.
Gonzalez's family says he was high on meth and had just been released from the Euless Jail.
"He was still under the influence of that stuff," his sister Jennifer Gonzalez said. "They shouldn't have let him out, period. Everything would've been different. The cop would've been with his fiancée, his family."
Gonzalez had a long history of run-ins with the law — racking up eight charges in the past five years.
Now, Euless is left to pick up the pieces.
"For all of our brothers and sisters in blue, we have to be okay. We're going to stand strong."