This is an archived article and the information in the article may be outdated. Please look at the time stamp on the story to see when it was last updated.
DALLAS -- One year ago, Thomas Eric Duncan was diagnosed with Ebola at Texas Health Presbyterian, setting off a month of "Ebola Mania" in Dallas.
Things are now quiet at the apartments where the three Ebola victims, Duncan and nurses Nina Pham and Amber Vinson, lived. It's a far cry from the onslaught of police, media, and cleanup crews after the diagnoses were announced.
But the memories are still fresh for those who lived in the neighborhood.
"Getting a knock on the door, knocked on at 5:30 in the morning and answering it and seeing police in hazmat suits. It was very surreal," says Pham's neighbor Betsie Bolger.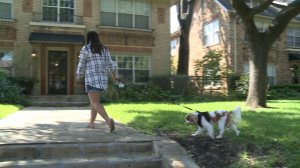 NewsFix saw Nina Pham walking her now famous King Charles spaniel Bentley outside her apartment. Pham didn't want to talk on camera but said she is doing well.
"We know her to say hello too," says Bolger. "I did tell her, at one point, 'We're really glad you and Bentley are okay,' and she said thank you."
Pham's story isn't over yet. She is suing her employer Texas Health Resources. The next court hearing is October 5th.
Hey Ebola, we'll always have the memories, but let's keep this breakup permanent.