This is an archived article and the information in the article may be outdated. Please look at the time stamp on the story to see when it was last updated.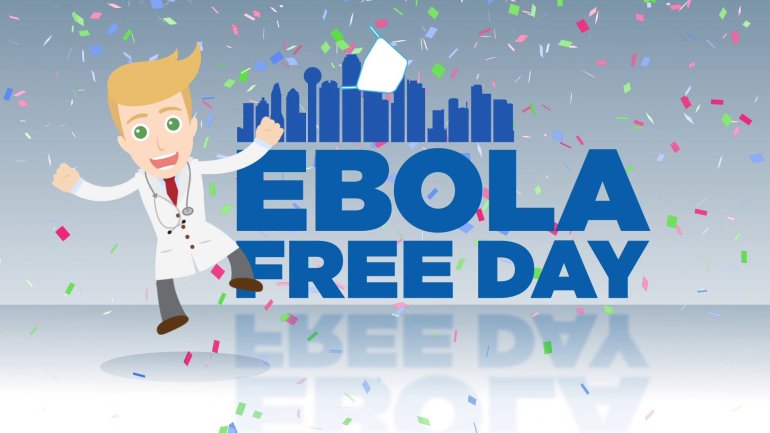 DALLAS, Texas — It's Ebola Free Day in Dallas. The last people being monitored for the deadly virus are now in the clear.
That means, after Thomas Eric Duncan got sick, only two Presbyterian nurses got sick. Not the people in the apartment with Duncan. Not the people on the plane with Amber Vinson, including two male strippers who voluntarily quarantined themselves.
And not nurse Nina Pham's now famous dog Bentley.
Okay, technically, everybody's not clear until midnight, but with no one showing symptoms, everyone's being allowed to go out and mingle with the public.
"This virus is not as deadly as was portrayed," said Zachary Thompson, Dallas County Health and Human Services Director.
Makes you wanna sing. Someone cue Tom Petty — "Yeah, I'm free!!!"
Now cue the Happy song — "Because I'm happpppy!
ORIGINAL STORY AIRED NOVEMBER 7, 2014
DALLAS, TX — Looks like it's almost game over for Ebola. For weeks, officials have worked to chase the Big E off the grid.
Now, we're just hours shy from officially declaring Dallas County: Ebola free!
By the end of the day Friday, the last person being monitored for Ebola will be cleared, clearing the virus from the city.  Sound the alarms, draft a proclamation and prep the graphics for Reunion Tower.
Even the passengers who shared a flight with infected Texas Health Presbyterian Dallas nurse, Amber Vinson, have been given the all clear. Speaking of Vinson, she's addressing the harsh crticism she faced for taking that Frontier flight.
"I'm a nurse, I care, I care for me; I would not put myself in danger," Vinson explained. "I would not take Ebola to my family and my best girlfriends, I would not endanger families across the nation, potentially exposing them to anything; I had no symptoms."
Hey, wonder if any one told Axle Goode and  Taylor Cole the good news. You may remember, they're the male strippers who voluntarily stripped their freedom, and went under quarantine because they were on Vinson's plane.
Well, here's hoping there's not a second level in this Ebola game.