This is an archived article and the information in the article may be outdated. Please look at the time stamp on the story to see when it was last updated.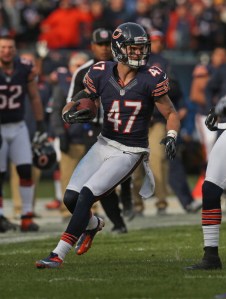 North Texas – Doing what you love and being happy are the most important things in life right? We've all heard the Steel Magnolias saying "I'd rather have 30-mintues of something wonderful than a lifetime of nothing special."
And hey, 25-year-old Chris Conte seems to agree. In a recent radio interview, the Chicago Bears safety spoke out about his feelings regarding his career, following a conversation about the wear-and-tear the NFL puts on players – and ultimately affects their long-term quality of life.
Conte said, "I'd rather have the experience of playing and, who knows, die 10-15 years earlier than not be able to play in the NFL and live a long life."
This is the same guy that suffered two concussions this season folks. But hey, he's convinced it's all worth it, which kind of makes you think – would you be willing to give up a few years of your life to pursue a dream?
"Well if it didn't involve a head injury I might consider it," Roger Stanley said.
"I'd have to turn it down. Wouldn't be able to do it," Ervin Lester said.
Well for those who answered yes, what's your dream?
"My dream is to grow tail like a monkey, and I'd probably give up a year of my life," Eduardo said.
"I wouldn't mind owning a business," Joseph Flemming said.
Hmmm, looks like Conte isn't alone.
Whether you're leaving it in the hands of the almighty, or creating your own fate – dream big! Anything is possible, especially if you're willing to make the sacrifice.