This is an archived article and the information in the article may be outdated. Please look at the time stamp on the story to see when it was last updated.
DALLAS -- Sometimes we see things online that make us shake our heads.  But it's not every day one of those offensive posts triggers a police investigation.
Take a look at this super-inappropriate photo someone tweeted from an "American costume party" in Russia.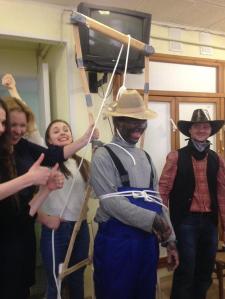 Yeah.That's a guy in blackface, with a noose around his neck.
Apparently, someone in the States reposted it to Facebook, and some people thought it was funny.
Now, the First Amendment guarantees us the right to speak freely, meaning you can't be arrested or charged for having an offensive sense of humor.
So why is Dallas PD investigating??
Well, the president of the Black Police Association in Dallas, Lt. Thomas Glover Sr., says at least two Dallas officers posted comments, "indicating support of the picture because it is simply humor."
Whoa. That's not a good look for a cop.  Especially when police have been dealing with accusations of racism after certain events.  Like Ferguson, and that pool party in our own backyard, among too many others.
Lt. Glover's statement goes on to say,  "Police officers by the nature of their job are held to a higher standard," and "should be disciplined for 'conduct unbecoming a police officer.'"
Mmmhmm.
But whatever comes out of DPD's  Internal Affairs investigation, maybe we should all be held to that higher standard...
Whether you wear a badge or not, Glover says, "It is not funny to regress back to one of the most despicable times in the history of our country."
Yeah. Some things just aren't funny, y'all.