This is an archived article and the information in the article may be outdated. Please look at the time stamp on the story to see when it was last updated.
DALLAS-- As if finding parking wasn't annoying enough, you better watch yourself when paying for it. While parking in Deep Ellum is pretty simple, don't fall for the parking lot scam that people online are warning about.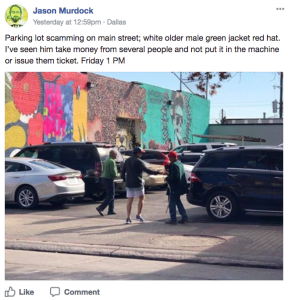 Jason Murdock works in Deep Ellum, and lives nearby too. He took a picture of a man taking cash from people parking in the lot on Main Street. He posted it on Facebook to warn people about what's going on. "Sometimes you will see people come up and say, hey, hey, hey.'
If you read the signs posted in the parking lots, you will notice they say, "Do not pay attendant." You're supposed to pay the digital meter, then place the ticket in your dashboard.
Murdock says he's seen the scam done a couple different ways. Some people pretend to be a parking attendant and take cash. Others will try to take your receipt and resell them to someone else. Murdock has even seen people dressed in neon vests, trying to look official. "People are trying to capitalize on people's ignorance if you can call it that."
He even pointed out someone during the interview who he thought was doing it. "I know that they put the pressure on, they are very cunning." he says. "They will even tug on your heartstrings."
Murdock says it's not just a Deep Ellum problem, it happens a lot of places around Dallas. However, those in Deep Ellum are trying to do something about it, to keep the area safe and fun. So, read the signs and feed the machines people so you won't wind up paying for your mistake.