This is an archived article and the information in the article may be outdated. Please look at the time stamp on the story to see when it was last updated.
DALLAS -- The Donald was in the house Monday night.
The American Airlines Center in Dallas was packed with supporters and skeptics for Donald Trump's Texas-sized presidential campaign rally.
More than 20,000 free tickets were up for grabs. And after they sold out, scalpers swooped in and attempted to sell their tickets online. Some were posted for up to $100 a pop.
And Monday night, his hair wasn't the only thing making a statement. He slammed everyone from former Texas Governor Rick Pery to President Obama saying he "doesn't know what the hell he's doing!"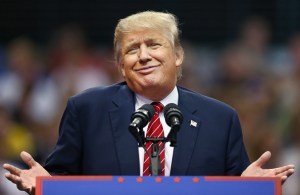 Trump's stance on illegal immigration hits home to the more than 10 million Latinos living in Texas. After all, his comments about illegal immigrants haven't yet been forgotten.
But his raw and over the top campaign has catapulted him to the top of the republican polls, even earning him more support in the Lone Star State.
Hey, love him or hate him, there is still one place you can make your voice heard -- at the polls.