This is an archived article and the information in the article may be outdated. Please look at the time stamp on the story to see when it was last updated.
That's some rich "American Pie."
The lyrics to the famed Don McLean song sold for $1.2 million Tuesday morning at an auction held by Christie's.
"Don McLean's manuscript of 'American Pie' achieved the 3rd highest auction price for an American literary manuscript, a fitting tribute to one the foremost singer-songwriters of his generation," Christie's Tom Lecky said in a statement.
McLean told Rolling Stone that it was time to part with the manuscript.
"I'm going to be 70 this year," the singer and songwriter said in February. "I have two children and a wife, and none of them seem to have the mercantile instinct. I want to get the best deal that I can for them. It's time."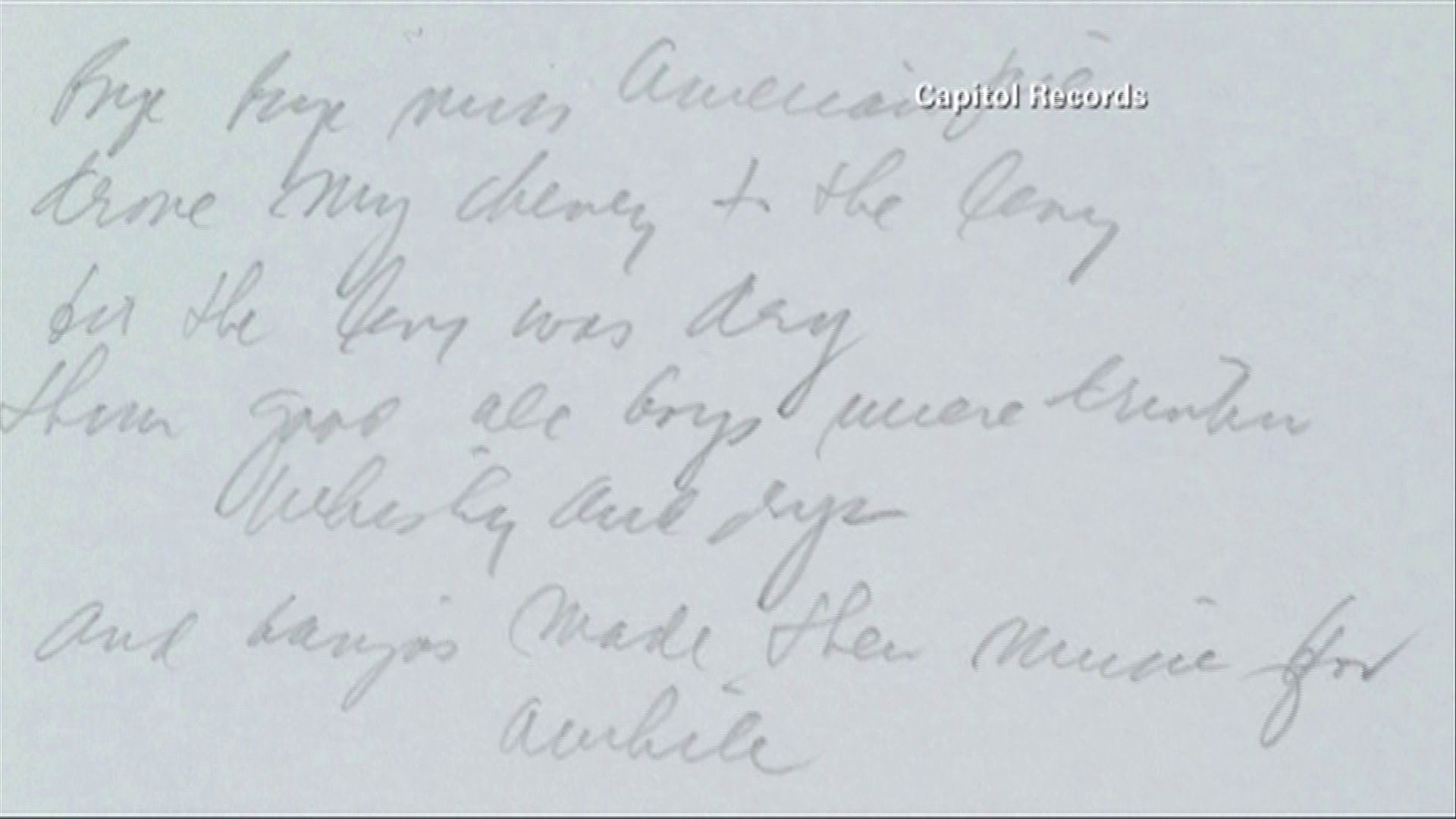 Over the years, "American Pie" has become one of the most dissected and argued-about songs in the pop music canon. McLean has said that the opening lines were inspired by the death of Buddy Holly, but after that, it's all been conjecture — which hasn't stopped a marching band's worth of analysts from trying to parse the symbols in the 8-minute, 33-second opus.
Is the jester Bob Dylan? The football game Vietnam? The "girl who sang the blues" Janis Joplin? (One thing's certain: Buddy Holly's plane was NOT named "American Pie.")
"Over the years I've dealt with all these stupid questions of 'Who's that?' and 'Who's that?' " McLean said. "These are things I never had in my head for a second when I wrote the song. I was trying to capture something very ephemeral and I did, but it took a long time."
McLean told also shed some light on the song's meaning in an interview in the Christie's catalog for the auction.
"Basically, in 'American Pie' things are heading in the wrong direction," said McLean. "It is becoming less ideal, less idyllic. I don't know whether you consider that wrong or right, but it is a morality song in a sense. I was around in 1970 and now I am around in 2015 … there is no poetry and very little romance in anything anymore, so it is really like the last phase of 'American Pie.' "
McLean said he felt an inexorable decline in American culture when he wrote the song, and almost saw things getting worse in the future.
The song catapulted the former folk singer to headliner status. The song hit No. 1 in early 1972, despite its length. (The 45-rpm single split the song in half on its A and B sides.)
The draft that was auctioned is 16 pages: 237 lines of manuscript and 26 lines of typed text, according to Christie's. It includes lines that didn't make the final version as well as extensive notes — all of which should be revealing, McLean said.
The record for a popular music manuscript is held by Bob Dylan's "Like a Rolling Stone," which sold for $2 million in June.