This is an archived article and the information in the article may be outdated. Please look at the time stamp on the story to see when it was last updated.
HOUSTON — The Cowboys lost to the Texans 14-6 on Thursday to wrap up an 0-4 preseason schedule.  But of course, records are not the point of the preseason.
"Obviously, you have a lot of different objectives going into each of the games," said head coach Jason Garrett.  "It starts with the playing time of your guys; you`re looking at different people.  Certainly whenever you go out there you want to win, we're competing to win, but that doesn't override some of the other objectives that we have.
"We did get a chance to see a lot of our players, and I thought we got better as a team over the course of the four games."
While you can't accurately judge a team when most of its starters barely played (Ezekiel Elliott didn't play at all this preseason to avoid injury), can a winless preseason still predict the regular season?  Thankfully for Cowboys Nation there's no conclusive evidence that it does.
Dallas has gone 0-fer five previous times.  Three of those years ended up being a losing season and the other two saw the Cowboys win their division.
And if you look at the franchise's five Super Bowl-winning seasons, only one of those teams had a winning preseason record.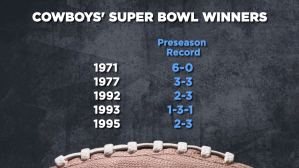 So, while the coaches work hard to cut the roster from 90 players to 53 based on what they saw the past few weeks, we can just sit back and get ready to enjoy some real football!  The Cowboys kick off their regular season Sunday, Sept. 9 at Carolina.