This is an archived article and the information in the article may be outdated. Please look at the time stamp on the story to see when it was last updated.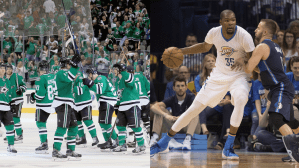 DALLAS — With two teams in the playoffs it was the Tale of Two Cities for DFW sports fans last night.
First, up in Oklahoma City, the Mavs ran into a buzz-saw as the Thunder lowered the boom on Dallas, dominating game one 108-70.
"I guess the only positive I take out of this is that it's only one game," Dirk Nowitzki said after the loss. "If you lose by 2 or by 50 in the playoffs it's only one game."
How bad was the loss? The Mavs 70 points were the fewest in a playoff game in franchise history!
So while the Mavs try to figure their playoff run out, back in Big D the Stars were winning a 2-1 thriller over the Wild.
The win gives them a 2-0 lead over Minnesota in the series, and was highlighted by one of the craziest, unbelievable and controversial goals in recent memory when a kicked puck from Roussel found it's way onto the goalie's back. After a nearly five-minute review, the NHL ruled the goal good.
"I was just trying to kick it back on my stick and it was perfect. It was like a [Sidney] Crosby goal or something." Roussel joked after the game.
Head coach Lindy Ruff had no clue which way the review was going to go.
"Some of the guys said it's going to be a goal and I said I'll believe it's a goal when he skates to the circle and points at center ice."
But the real star of the night was Kari Lehtonen, who won his second game of the postseason, making 25 saves including shutting down a wild flurry in the final seconds of the game.
"I feel good but I think it all starts from us playing well in front of me." Kari said after the game, "You know that makes it a lot easier for me."
So it's still very early on in this year's playoff journey, but already it looks like the two Dallas squads are on very different paths, with the Stars' eyes on the Stanley Cup and the Mavs hoping they can keep it close.