This is an archived article and the information in the article may be outdated. Please look at the time stamp on the story to see when it was last updated.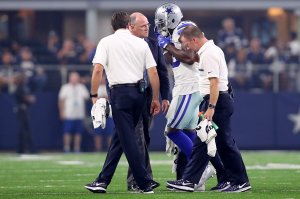 FRISCO, TX — The mystery of the "Missing Dez Bryant" finally got its answer, even if you think it's a lousy one.
"He really thought that he was going to get some bad news when he got the MRI on Monday morning," Jason Garrett told the media on Thursday. "So he, like some of us do in life at times, he avoided it and he didn't come in and take care of his business."
Yeah, after Sunday's injury, Dez dodged the Doc for the past week, skipping meetings and practice afraid of bed medical news. Luckily, the news wasn't too terrible: a hairline fracture in his leg that he might be able to play through.
Garrett said his absence was a side effect of his insane passion, but that it's also one they'd rather not see.
"He's an emotional person and he didn't handle it the right way," coach insisted. "Not what we have to do as a team is we have to handle it the right way. We understand where he was coming from and then we address it, we solve it and we move on."
Of course Cowboys fans don't really care where Bryant was Monday through Wednesday, they just want to know where he'll be on Sunday! As usual, it's still wait and see as to how long 88 might be out. So it'll be up to the rest of the receiving corps to fill in the gap if he's gone.
"You just can't flinch in those situations," said tight end Jason Witten. "We feel like we have depth at the wide receiver position, Brice [Butler] is somebody now who's in the second year of our system, made some plays, has some big play ability and we've just got to keep moving forward."
Well, fans can just hope that the team's new found offensive success doesn't go AWOL along with Dez.