This is an archived article and the information in the article may be outdated. Please look at the time stamp on the story to see when it was last updated.
KELLER — Tunnels are all the same in some ways. They're always dark, and they usually come tagged with fresh or painted-over graffiti. The tunnel under Bear Creek Parkway by Keller's Town Hall does have all that, but it's something else that's stealing the show.
This tunnel has a freshly painted, running deer.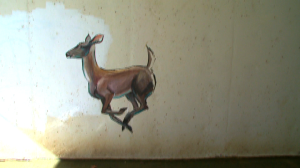 "It's awesome!" said Keller resident Gail McEnroe. "Somebody just sneaking around doing this for us? It's cool!"
There was a deer that appeared shortly after Christmas, an armadillo followed, and then a bird completed the current trio in that same tunnel, all of them appearing seemingly out of nowhere.
"It looks like he's doing a Texas theme," laughed Keller's Director of Community Services, Cody Maberry. "I'm not sure what he or she's got in store next."
That's part of the intrigue to this story. The artist is totally anonymous, giving us a Where's Waldo for our 'Wildlife Warhol'.
"I'd like to know who it is so we can tell them, 'You've got incredible talent,' but it's kind of surprising and neat to know that somebody can do this and you're just waiting to see what's going to happen next," Maberry said.
One of the shocking parts is how the artist is getting away with it. The bird alone is roughly eight feet off the ground!
"You'd have to come down here at two o'clock in the morning when there's nobody out here," said Keller resident Donna Trujillo.
Unlike most nighttime public Picassos, a line has been drawn between this wildlife wonder and the graffiti that earns you a misdemeanor and gets painted over.
"The stuff that gets painted over, I think, is kind of self-serving," McEnroe said. "I think this is art for everybody."
And everybody in Keller seems just fine letting this one fly. If you're out there, you deer-drawing Dali, know that the people want to praise, not punish, you. If you'd like to reveal yourself, you can go to Keller Town Hall.