This is an archived article and the information in the article may be outdated. Please look at the time stamp on the story to see when it was last updated.
DALLAS - Ever since Colin Kaepernick took a stand by taking a seat during the national anthem there`s been endless debate about whether or not it`s the right way to bring attention to a cause. Not even our own military can agree on where they stand on the issue as was seen with the #VeteransForKaepernick hashtag.
I didn't serve this country for my son to be afraid to walk down the street at night #VeteransForKaepernick pic.twitter.com/hgweAkv1uG

— Cindy Henderson (@stadiumdatesCEO) August 31, 2016
Other players have joined Kaepernick in his protest, most recently Brandon Marshall during Thursday night`s season opener. Now comes word that the Seattle Seahawks are planning a team demonstration before their game on Sunday, September 11th. Seahawks cornerback Jeremy Lane has already taken a seat during the national anthem during the preseason.
One Dallas officer who was on the scene of the July 7th ambush that killed five cops is trying to change the players` minds. His name is Dan Russell and an open letter he posted on Facebook has now gone viral.
The letter is addressed to Seahawks quarterback Russell Wilson. Dan explains that the events on 9/11 inspired him to become a police officer. He also described questioning his career choice in the wake of the events that took place in Ferguson, Missouri in 2014 until he visited ground zero and became re-inspired.
Dan ends the letter by asking the team to "Stand for the Star Spangled Banner. We who Serve will stand with you. Respectfully, Dan Russell, Seahawks fan."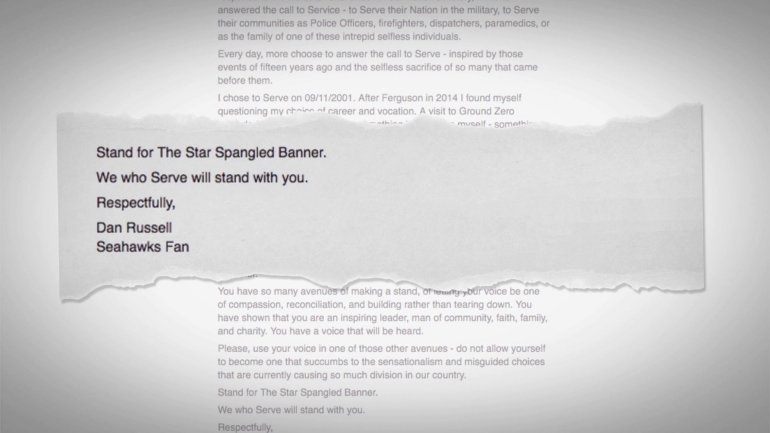 Doug Baldwin, a receiver for the Seahawks, has already stated that the team will honor the country and flag on Sunday, although the team still says that a big surprise is in store.
We'll see if that surprise is something Dan and the rest of the nation will approve of.