DALLAS -- The pavement was damp Tuesday morning, so you know what that means.
Everyone lost their minds!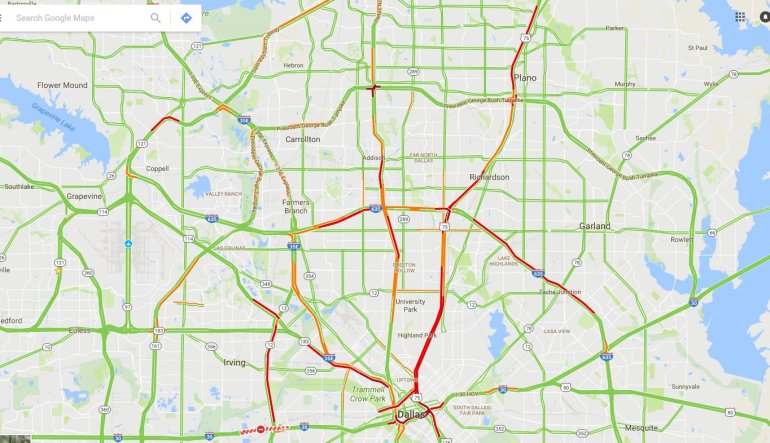 The Google road map of the Dallas Metroplex tells the story of the morning commute commotion, and so did the people who had to deal with it.
One driver named Kristin said, "Traffic was absolutely awful this morning. I just don't think people really know how to drive too well in the rain."
In fact, she was an hour late to Jury Duty thanks to the tie ups.
Have a little pride, y'all! If it weren't bad enough that the Los Angeles Rams came in and stole a win from the Cowboys this past weekend, now we've got Cali drivers coming for us too!
"I'm from California so Texas drivers are a little different for me," a driver named Williams told NewsFix. "Any type of weather seems to give them a problem."
If you didn't learn the basics in Driver's Education (and we're betting maybe you were the one throwing pencils into the ceiling in the back of class), take note!
"Two things will save you in every crash," said TxDPS Spokesman Lonny Haschel. "Time and distance. If you have time to react, and if you have space to react within, then you won't be in that crash. You gotta break that chain. Slow down is the big message."
He also pointed out that when it hasn't rained in awhile the extra oil build up on the road can make things as slick as ice once the rain hits it.
If all this isn't enough, we might have to follow Iowa's lead and get Taylor Swift involved.
The Hawkeye State's using lyrics from T. Swift's current banger, Look What You Made Me Do, to try to keep drivers from texting while driving. Quoting the song, the signs say, "Old Taylor can't come to the phone."
Iowa's Department of Transportation then added: "She's driving."
As for us? We just need to drive better, better, better when we're dealing with weather.