This is an archived article and the information in the article may be outdated. Please look at the time stamp on the story to see when it was last updated.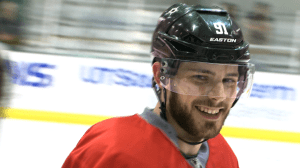 FRISCO — The Dallas Stars hit the ice for their first playoff practice and fans in attendance got to see a sight for sore eyes: Tyler Seguin back on the ice for the first time since his devastating Achilles heel injury on March 17th.
But will the superstar be back in time for Thursday night's Game 1 against Minnesota?
"I think when he can go 100%, go full out, really stress it, we'll know where he's at," said head coach Lindy Ruff. "That might be tomorrow, that might be Thursday, but today was a good step in the right direction for him."
"It is the first practice back, and you know everyday just try to pick it up a bit and just try to get ready for this week," Seguin told reporters after the morning skate.
Before Seguin went out with his injury, he notched 33 goals and 40 assists for the Stars, making him one of the most crucial pieces to this Stars offense.
But whether he'll be leading the way for the first round series may not be known until the puck drops!