This is an archived article and the information in the article may be outdated. Please look at the time stamp on the story to see when it was last updated.
DEEP ELLUM – The dog sitting on doggie death row will live to see another weekend, at the very least.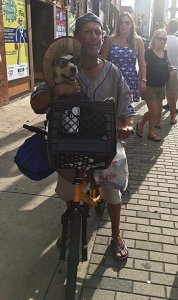 'Lamb of God' could been seen around Dallas streets, dressed up by her panhandling partner, Sean Baugh. People would take pictures with her, then donate money. However, the adorable gig the two had going on around Dallas came to an end after she bit a child, and a judge ordered her to be euthanized.
Some say Baugh was treating the dog badly, others say she was just protective over Baugh and is not vicious. Either way, word on the street is, 'Lamb of God' does not deserve to die. Jessica Brodsky, an animal advocate who frequents Deep Ellum says, "Reverse the death sentence into a life sentence, let her live out the rest of her days, somewhere in a wonderful place."
'Lamb of God' was supposed to be euthanized this week, however it has been put on hold after public uproar.
That's where things get complicated. At first, Dallas Animal Services said their hands were tied, and they were going to go through with the death sentence. Then, then they got an order not to, until further notice. Next, the judge who ordered the sentence it is reconsidering. Thursday, a judge essentially ordered a stay until a different hearing next week.
Lee Jamison, with pet rescue, Awwdoptable is working with a lawyer to try and save 'Lamb of God.' She says, "It`s like exhausting your wishes. Rather than wishing for more wishes, we need to wish for more wishes right now."
Thanks to the timing, 'Lamb of God' is safe through the weekend. If her life is saved, Jamison says her organization is ready to take her in. "We want to get her into a home, and there are just a ton of citizens saying, I have been around this dog, she's not a bad dog, I'd love to take her in. So, hopefully that's what happens to her."