This is an archived article and the information in the article may be outdated. Please look at the time stamp on the story to see when it was last updated.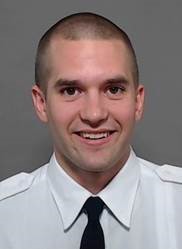 DALLAS – Dallas Fire Rescue is mourning the loss of one of its own after a helicopter crash killed DFR Officer Brian McDaniel and four others Sunday night.
The Liberty Helicopters chopper went down about 7:00 p.m. in New York City's East River, near Roosevelt Island, while carrying a group of five people for a photo shoot, one of whom was Officer McDaniel.
McDaniel, 26, had been with the department for two years, according to DFW PIO Jason Evans. He was assigned to C-Shift at Fire Station 36. "Despite his short tenure, hearts are heavy with grief as we not only try to come to grips with his loss departmentally; but to also be there in every way that we can for his family." Evans said in a statement.
McDaniel is survived by parents and an older brother.
The helicopter pilot is the only survivor of the crash; investigators say he believes the crash may have been caused by a passenger's piece of luggage when it inadvertently hit the emergency fuel shutoff button, leading to the crash.
A police source identified the pilot as 33-year-old Richard Vance.
The National Transportation Safety Board will try to determine the cause of the Sunday evening crash. The NTSB tweeted that an investigation team of 14 people would arrive Monday morning.
Chopper was upside down and submerged
The Federal Aviation Administration said the helicopter, a Eurocopter AS350, went down in the East River near Roosevelt Island at 7 p.m. ET.
In an audio recording of a mayday call to LaGuardia Airport, the pilot said the helicopter was experiencing engine failure.
When emergency workers responded, the helicopter was upside down and submerged, authorities said. Police called for a barge with a crane to pull the chopper out of the water near 23rd Street.
"One of the most difficult parts of the rescue were that five people were tightly harnessed," Fire Department of New York Commissioner Daniel Nigro said. "People had to be cut out."
The pilot was able to free himself and was rescued, Nigro said.
Company had 3 crashes in 11 years
Liberty Helicopters describes itself as "the largest and most experienced helicopter sightseeing and charter service in New York City."
The company has "a fleet of 10 state-of-the-art Airbus helicopters (formerly American Eurocopter)," according to the website. "We have been in business and flying safely for over 30 years," the website says.
This is the company's third crash in 11 years. In August 2009, nine people were killed after a helicopter and a small, private plane crashed into each other over the Hudson River. Investigators said the helicopter was flying too high.
Two years before that, in July 2007, a Liberty sightseeing chopper carrying eight people dropped into the Hudson River. An off-duty paramedic on board helped everyone escape.
In all, the FAA has documented 16 accidents or incidents involving Liberty Helicopters since 1995. The 2009 crash was the only incident with fatalities.
There are no accident or incident histories or closed enforcement actions for the Eurocopter AS350 helicopter, the N350LH, or for pilot Richard Vance, according to FAA spokesman Jim Peters.
US Sen. Chuck Schumer of New York is expected to call for the FAA to suspend Liberty Helicopters' FAA operating certificate until their safety record and this crash are fully assessed, according to a press release from his office.
Richard Vance, the pilot in Sunday's crash, is a licensed helicopter pilot from Danbury, Connecticut, FAA records show. His current commercial pilot license was issued in September 2011, according to FAA records.
Anthony Vance, the pilot's brother, told CNN in a phone interview that "he did his job and got out alive."
"He's a true f—ing pilot, so just let him be," he said.
Several people have died and one survived after a helicopter went down in New York's East River on March 11, 2018, according to officials.

NYPD Commissioner James O'Neill updates on a helicopter that went down in New York's East River.

NYPD Commissioner James O'Neill updates on a helicopter that went down in New York's East River.

Several people have died and one survived after a helicopter went down in New York's East River on March 11, 2018, according to officials.

Credit: Dallas Fire Rescue
Crash investigation
The NTSB will likely look at three things: the pilot's training, experience and immediate response during the crash; what, if anything, on the helicopter caused the crash; and what environmental factors may have contributed to the crash, said Gary C. Robb, an aviation attorney based in Missouri.
Robb said the NTSB would then release a preliminary report, and a probable-cause accident report would follow detailing what happened during the crash.
He said that any helicopter operating around water should have floats so that it can land on water and stay upright. Based on the video of the crash, Robb speculated that one of the floats on the helicopter did not activate, which may have caused it to turn sideways in the water.
Liberty Helicopters posted a statement on its website, saying it is "focused on supporting the families affected by this tragic accident and on fully cooperating with the FAA and NTSB investigations." It said it was referring all press inquiries to federal agencies.
John J. Magers filmed the crash as it took place and posted the video on Twitter. He said he thought something was strange when he saw the helicopter flying low before it crashed into the East River, so he started shooting video.
"I saw it coming down toward the water. Thought it was unusual, but didn't expect it to crash," Magers told CNN. "My thoughts are with those killed."