This is an archived article and the information in the article may be outdated. Please look at the time stamp on the story to see when it was last updated.
DALLAS-- It began with this two-year-old boy.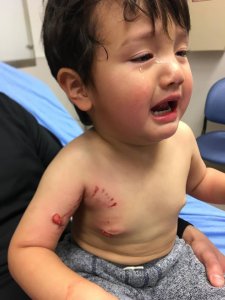 He was bitten during a Dallas Pets Alive adoption event in December by a dog named Rusty.
A judge ordered Rusty to be put down on Tuesday, but now everything has changed.
This petition, with thousands of signatures, could save his life!
Sounds familiar, doesn't it?
That`s exactly how Lamb of God was saved after being placed on doggie death row.
But, the battle isn`t over for Rusty.
Right now, Dallas Animal Services is holding off until an appeal is heard -- an appeal filed by Dallas Pets Alive.
They posted this video to try and raise some support.
In the video, Executive Director Leslie Sans says, "We believe Rusty deserves a second chance after an isolated, first time incident. We believe he can live out his life in a very happy place."
They are asking you to write your elected officials, and to add a comment to the petition! They would like to see Rusty go to a sanctuary in New York that will take him in and keep him for the rest of his life.
Brittani Lassiter, Attorney for Dallas Pets Alive! says, "I would like to see this case where everyone comes together for the betterment of our community. I would like to see the City of Dallas, Dallas Pets alive, and Dallas Animal Services really coming together."
Dallas Pets Alive would like to see Dallas make the move to be a no kill city.
Let`s be honest: , The city is in a tough spot, given what happened with Lamb of God.
As far as the victim in Rusty's case, the two-year-old's mom tells us there is so much time and energy being put into a fight for one dangerous dog, while so many innocent dogs need to be saved.
We'll have to wait for the next chapter of this doggie drama to find out Rusty's fate.