This is an archived article and the information in the article may be outdated. Please look at the time stamp on the story to see when it was last updated.
DALLAS-- Remember this Dallas single family house NewsFix showed you back in February?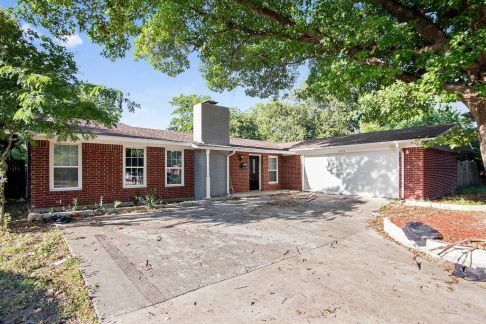 It`s only for sale by bitcoin, Ethereum, or Property Coin.
Those are electronic currencies that only exist online, and are not regulated by a bank or state.
Property Coin is a new concurrency created by Aperture Real Estate Ventures. It goes live on May 1st. The same day as the Dallas house is up for sale. Since you saw it last, it`s had a facelift.
We are steadily making sure every material is not only top quality but has the @Aperture_RE stamp of approval! Reminder!! This home in Dallas, Texas will be available for purchase using bitcoin, @Property_Coin and escrow normalcy!! #ico #fixandflip #dallas #texas #bitcoin #home pic.twitter.com/ys2Bg8mIER

— Property Coin (@Property_Coin) April 7, 2018
The house now features a Ring door bell, and a new security system. That's good news because the Ring door bell already caught someone trying to do something shady!
Everyone wants into @Property_Coin houses!! Check out the break in attempt filmed last night...thanks @ring doorbells for the video! #cryptocurrency #tokensale pic.twitter.com/HtBXlTYcHm

— Property Coin (@Property_Coin) April 20, 2018
The house, located at 3220 Northaven Court in North West Dallas has five bedrooms and two bathrooms. The new fire place, floors, and kitchen appliances add a nice touch to the already stunning backyard.
Rudy Cortes, one of the founders of Aperture Real Estate Ventures says they are trying to change the real estate game. "This is our first property coin house."
The Dallas house is endearingly known as their "genesis house." Starting with the Dallas house, they are using new technology, and new strategies. "Trying to make the process easier, more transparent, and easier for people to buy homes," says Cortes.
Their goal is to someday be able to offer every single service you could think of when it comes to buying, selling, flipping, or simply being interested in real estate.
Alright, so you`re probably wondering, 'Can I afford this Dallas home?'
"If you translate it to dollars, which everyone understands, I think it`s pretty apparent that it`s affordable," says Cortes.
In cash, the home is around $336,000.
So what are you waiting for? You could be calling this crypto crib, home sweet home!