This is an archived article and the information in the article may be outdated. Please look at the time stamp on the story to see when it was last updated.
FRISCO -- Lots of ailments are common on NFL injury reports.  A potentially life-threatening autoimmune disease is not one of them.
Dallas Cowboys starting center Travis Frederick announced late Wednesday night that after lots of medical investigating into discomfort he'd been feeling for weeks, the diagnosis was Guillain-Barre Syndrome.
"It's a very rare condition," Dr. Tom Kosztowski told NewsFix. "It's not easy to diagnose.  Oftentimes the patient has had some sort of infection.  The body [tries] to attack that infection but also gets confused and attacks the nervous system."
The disease can produce numerous symptoms, including muscle weakness and trouble breathing.  In his statement, Frederick said it was caught early and treatments were already helping, but there's no timetable for his return to playing football.  That, however, was not the top concern among his teammates when they spoke about it for the first time on Thursday.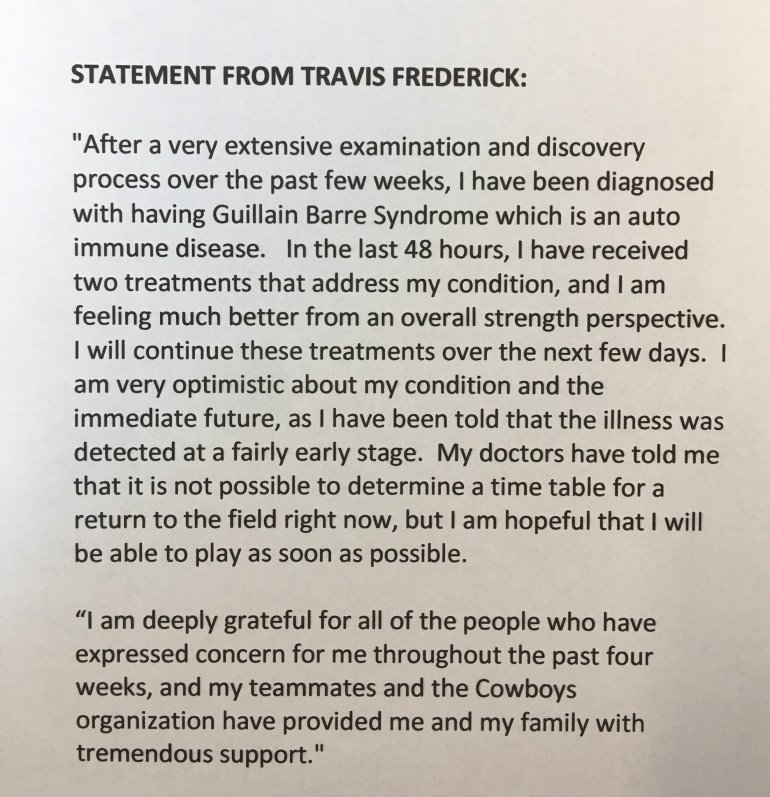 "First and foremost we're thinking about him and his family as people more than any football aspect of this," said head coach Jason Garrett.  "We'll just see how he comes back from this."
"I think his spirits are high," added fellow offensive lineman Zack Martin.  "I've stayed in touch with him, talk to him every day.  Kind of a scary situation, but his spirits are high."
Frederick has yet to miss a game in his five-year career but it's a safe bet that streak will end when this season begins in less than three weeks.  That puts career backup Joe Looney in position to be the starting center, and he's looking forward to the opportunity.
"[I] come into the facility with the mindset of making sure I'm meeting with my coaches, knowing everything mentally, and not letting this offensive line drop off at all."
Dallas plays its third of four preseason games this Sunday night against Arizona at AT&T Stadium.