This is an archived article and the information in the article may be outdated. Please look at the time stamp on the story to see when it was last updated.
DALLAS — For most artists, painting is a way to express creativity and passion. But for one Pleasant Grove native, it's a little more than that.
"I started painting because I was trying to solve a problem," Desmond Blair said. "I tried writing with my feet, with my mouth, and eventually, somehow, I figured out how to write with both my hands."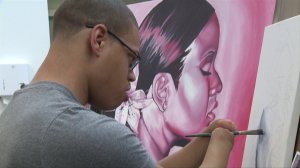 He then discovered crayons.
"Like any little kid, I was interested in cartoons and liked animation and figuring out how cartoons work. So, that pushed me on to keep learning how to draw, keep practicing, keep getting better," he said.
And so, an artist was born.
"It took me awhile, but I finally settled on painting portraits."
But when it comes to Blair's childhood, there's no brushing off what he had to deal with to get to this point.
"I was the only one in my school, the only one in my church, the only one in my neighborhood, with a limb difference," Blair explained. "Yeah, you're still the kid that doesn't have fingers, but you can still do everything everybody else can."
And from the good, the bad and the ugly, something beautiful happened.
"All of that stuff, I just put it on a canvas and that's my personal reminder to get up every day and kill it. I don't think disabled, I think different."