This is an archived article and the information in the article may be outdated. Please look at the time stamp on the story to see when it was last updated.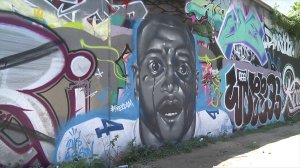 DALLAS– With football right around the corner,  NFL teams are gearing up for an interesting season.
Just last week Dallas Cowboys owner Jerry Jones said all Cowboys players will be required to stand on the field for the National Anthem. A directive quarterback Dak Prescott is kneeling to, saying "I'd never protest during the anthem, and I don't think that's the time or the venue to do so. The game of football has always brought me such peace, and I think it does the same for a lot of people."
Well, that didn't sit well with fans who took to social media to express how they felt. Now, Trey Wilder a North Texas muralist has created a mural for Prescott with the iconic image from the movie "Get Out." A movie with it's own take on stereotypes and race.
"It's been difficult to be a fan in the recent week or so with Jerry Jones as well as Dak Prescott and the on going controversy of the National Anthem." said one fan.
Now people from all over are headed to the Fabrication Yard in Dallas to see the mural for themselves.
"I love the mural, I love the whole story behind the representation of it. It's just awesome. I'm a Dak fan but right now I'm not a Jerry Jones fan." said another fan.
Whether you agree with Jerry Jones or not, one thing is for sure, art is having a deep impact in this community.