This is an archived article and the information in the article may be outdated. Please look at the time stamp on the story to see when it was last updated.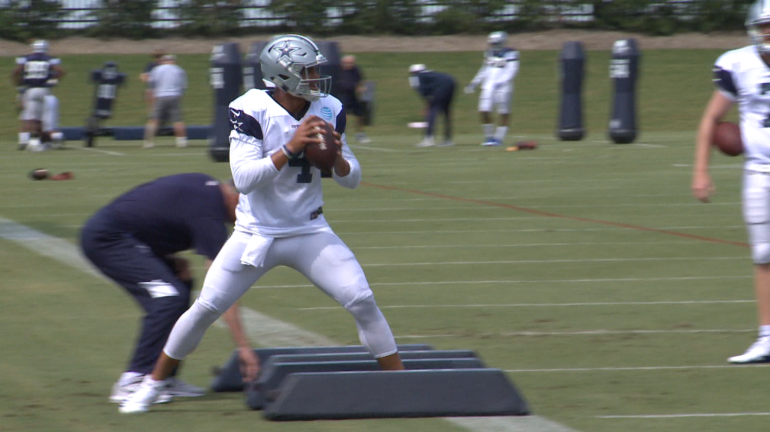 FRISCO, TX — With all the offseason focus on Zeke, it's almost possible to forget the guy who was actually Rookie of the Year last season: Dak Prescott.
In case you stopped keeping track, Dak's run to open his career is still historically hot.
He's now 14-2 in games where he's played all 4 quarters, and in his 17 total starts he's only thrown 4 interceptions.
Just for comparison, Tony Romo threw 4 picks in the first 3 quarters he played.
"I think it starts with his decision making, his understanding of what we're doing and what defenses are trying to do," Coach Jason Garrett said of Dak's lack of interceptions. "Then just the values he places on the ball, he's not frivolous with the football."
Dak is set to make history on Sunday against the Denver Broncos. If he goes his first 2 passes without an interception, he'll become the first QB in NFL history to throw fewer than 5 picks in his first 500 throws.
"To me it's just numbers, the milestone doesn't mean anything," Prescott said. "My main focus is taking care of the ball, keeping in our team's hands. Whatever the stat is, the first, or whatever it is, it doesn't mean nothing, just got to keep going out there and taking care of the ball week in and week out."
The pressure will only ramp up on Prescott as the haters wait for his hot streak to end, but so far, he's shown no signs of slowing down.