This is an archived article and the information in the article may be outdated. Please look at the time stamp on the story to see when it was last updated.
[protected-iframe id="333c5118fa462e9e8bfe83b56bda9ec7-66245013-41938752″ info="http://player.ooyala.com/iframe.js#pbid=f2605fb46a6e47afab7be3fd7032bb72&ec=pncXkxczr2aEutgoWDLOF3EVY1hMMi2R" width="770px" height="433px"]
BEAVER COUNTY, Pa. — This police chase in Pennsylvania was out of the ordinary because.. it was  a bunch of cop cars chasing a cop car! Police say Roxanne Rimer, detained, handcuffed, and suspected of stealing earrings from Kohl's, climbed to the front seat of a police cruiser and took off, hitting almost 100 miles an hour going through Beaver County, near Pittsburgh.
Then she ditched her ride and took off on foot.
MORE: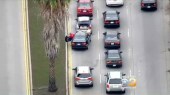 Rollin' Away: Carjacker Tries Escaping on Skateboard
Psycho Ex? Man Accused of Running Over Ex-Girlfriend and Relative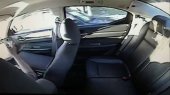 Careless Cop: Watch Officer Refuses to Help Mom Held at Gunpoint