This is an archived article and the information in the article may be outdated. Please look at the time stamp on the story to see when it was last updated.
FRISCO -- Jerry Jones looked on like a proud father as the curtains came down.
The newest piece of the Dallas Cowboys kingdom was unveiled Monday morning, the Ring of Honor Walk in front of The Star in Frisco.

"I will never walk down this walk without getting that good feeling that you used to get going to the field with players like this," Jones told the crowd.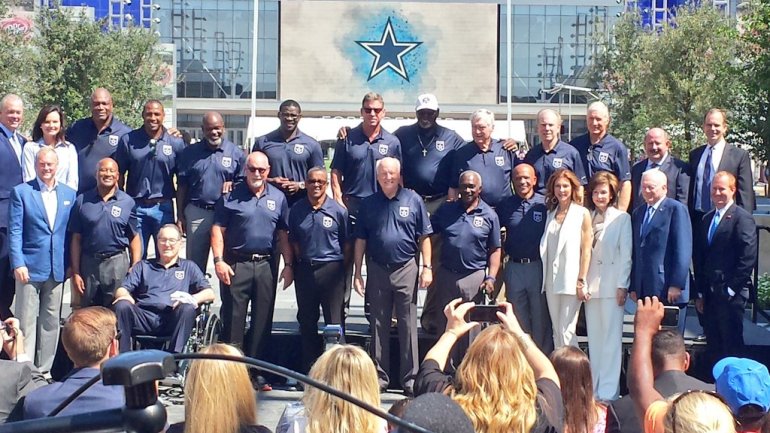 16 of the 21 members of the Ring were there to unveil, with four of the remaining five having family members there to do it. It was everyone from The Triplets (Troy Aikman, Emmitt Smith, and Michael Irvin) to Mr. Cowboy himself, Bob Lilly.
For Lilly, it's unbelievable to see what the Cowboys have become since he joined the team in its second season, 1961.
"We started out practicing at Burnett Park, which was a condemned baseball stadium over in Oak Cliff," he said. "We had to hang our uniforms and our shoes up because if you had sweat on stuff, the rats would come in at night and eat them all up. We put rat poison out all the time, and the rats just got bigger."
Looking around the Cowboys' new World Headquarters he said, "I really hope we get to see the locker room. I'd like to see it one time."
Something tells us it didn't take much for Mr. Cowboy to get that invite.
You can't get this group together without a little testosterone flowing.
"We're in the back room arguing about who's starting and who's sitting the bench," Cowboys Hall of Famer Michael Irvin laughed. "Who's starting? Emmitt (Smith) or Tony (Dorsett)? Who's starting? Roger (Staubach) or Troy (Aikman)? Of course Drew Pearson and I said we're both starting at the same time, so it all works out for us."
With so much talent currently on the field for the 'Boys, who's destined to join the Ring of Honor?
"He just left the field, but Tony Romo will be here one day," Irvin said. "Dez Bryant will be here one day. Zeke (Elliott) will be here one day, Dak (Prescott) will be here one day. Jason (Witten), no doubt."
But how about a guy who has just 12 Preseason snaps under his belt?
"I can't wait until you see Jaylon Smith here one day," Irvin said. "He will walk into Canton, Ohio. He'll walk in this Ring, but he'll walk in that Hall."
Irving continued by saying he announced the pick of Smith at the 2016 NFL Draft, and he's saving the draft card for Smith to sign once he's someday inducted into the Pro Football Hall of Fame.
We're gonna need more space!