This is an archived article and the information in the article may be outdated. Please look at the time stamp on the story to see when it was last updated.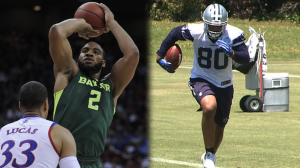 VALLEY RANCH, TX — Cowboys Rookie Camp kicked off Friday as the newest faces hit the field.
"It's exciting to get back on the field honestly," said Ezekiel Elliott, the Boys first round pick in last week's draft. "Just been a long time, it seems like, since I actually strapped up, put some cleats on and got on the field."
Well, for one rookie, it really has been a long time since he saw a football field. We're talking nine years!
Rico Gathers, the Cowboys 6th round draft pick, is a 6' 8" basketball player from Baylor, but he made the choice to enter the NFL Draft as a tight end prospect, even though he never put on a football helmet in high school or college.
And this whirlwind journey still has Rico's head spinning, "It was surreal all the way up until the point that I finally got here yesterday."
So where does a basketball star even start when it comes to making America's Team?
"Just get the playbook down right now, and then from there you can move onto the next steps," Rico Gathers told reporters.
Well once he's on that field, he's gonna have the best mentors around when it comes to catching a football.
"In the next few weeks, [I'll] learn from people like Jason Witten, Dez Bryant, good players like that," said Gathers.
Whether he has what it takes to make the transition from hardwood to the gridiron, I think we all know who's getting picked first when the Boys play a little pick-up basketball.
"You know I'm always down for that," Gathers said when asked about playing a little hoops at training camp.
Guess only time will tell if the Boys gamble on Rico will be a slam dunk.