This is an archived article and the information in the article may be outdated. Please look at the time stamp on the story to see when it was last updated.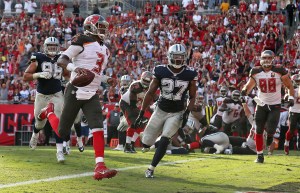 TAMPA, FL — Another week. Another disappointing loss.
Just when It looked like the Cowboys would survive and snap their six game losing streak, The Boys found a way to give it away.
Jameis Winston's fumble on the goal line, with just over a minute left, seemed to clinch the win for Dallas.
But, a holding call gave the Bucs a second chance; this time, Winston walked it in.
A last gasp by the Cowboys was thwarted by an end zone interception no pass interference call on an apparent push.
Buccaneers 10, Cowboys 6.
Hello, seven-game losing streak.
The game was marred by mistakes. Dan Bailey missed his first field goal of the season, Dez Bryant had several crucial dropped passes, and for the third time since Tony Romo`s injury, the Cowboys failed to score a touchdown in a game.
Well, Romo will be back on the field next week. But, things are worse than anyone could've imagined when the QB was injured in week two.
The Boys couldn`t manage even one win without #9, and now with his return on the horizon, it looks it will come too late to save the 2015 season.