This is an archived article and the information in the article may be outdated. Please look at the time stamp on the story to see when it was last updated.
The Dallas Cowboys need to be renamed déjà vu. In so many ways the Cowboys are haunted and revisited by past problems. In the first OTA of the season Linebacker  Sean Lee got injured. Lee missed 10 games in 2012 with a toe injury and even more games last season after hurting his neck. Lee went down after first round draft pick Zach Martin collided with him on a play.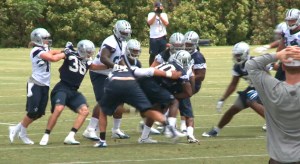 OTA's are supposed to mean "no contact", but it was Lee who wanted "no contact", with anyone while heading to the locker room. He could be heard venting his anger as he passed by a row of reporters.
On a more positive note, the city of Frisco was a step closer to finalizing the Dallas Cowboy's mega training center planned for 2016.