This is an archived article and the information in the article may be outdated. Please look at the time stamp on the story to see when it was last updated.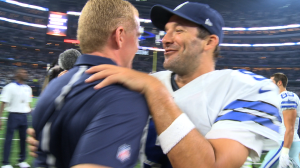 ARLINGTON — The game looked to be all over. All the Giants had to do was gain one yard, score a TD and pull off the upset. But then the magic happened!
The defense pulled off a brilliant goal line stand. Romo led the Boys all the way down the field with no timeouts and tossed the game-winning score to Witten with just seven ticks left!
Needless to say, the crowd went wild.
"Coach Garrett's message has always been, fight. I think our team does a great job of that," said Witten, who caught two scores, including the game-winner. "Nobody better than Tony leading the way there on the comeback. Just an unbelievable play. Good for our football team to get this win."
But it was a costly win for the Boys. Dez Bryant broke a bone in his foot and he's gonna be gone for the next 4 to 6 weeks.
"That's a tough loss. I mean, you can't replace Dez Bryant and I hurt for him right now because I know how much he loves to play this game," said Tony Romo after the game.
I'll be back soon but how about 9????????#cowboynation

— Dez Bryant (@DezBryant) September 14, 2015
Coach Garrett echoed Tony's sentiment on Sunday saying, "There aren't Dez Bryants waiting out there on the street."
Garrett did add that the Boys would plan on adding another receiver to the roster in the coming days. But that receiver won't be Dez, so the Cowboys can only count the days until he gets back, especially considering how narrow this victory was.
Three turnovers almost cost the Boys the game — but a win is a win.
Now the team has to get ready to take on Philly without Dez and hope that they can keep conjuring up that Cowboys magic.
[playbuzz-item url="//www.playbuzz.com/bradjones10/which-nfl-team-should-you-coach"]