This is an archived article and the information in the article may be outdated. Please look at the time stamp on the story to see when it was last updated.
LOS ANGELES, CA -- A husband and wife are having a little more trouble with their new home than deciding on what color to paint the walls.
Actress Angela Oakenfold and her husband didn't just close the deal on any Los Angeles house, they bought the infamous mansion from the first season of the TV show American Horror Story.
According to the couple, they had no idea the home was from the popular TV show and claim the agents who sold it to them never said anything of its Hollywood history, now they're suing because of it!
In the lawsuit, the couple claims fans of the show trespass and try to break in weekly, and say they never would've bought the real house of horror if they knew it was such a fan attraction.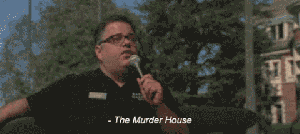 It's all a little ironic considering the first season of the show is all about how the owners of the house try to sell it because no one told them of all the past owners and their victims who haunt the halls. Sound a little familiar?
Although the TV family tries to move out, the real life couple plans on staying and are only suing for damages.
Hey, it could be worse! At least they're only being haunted by fans and not by killer ghosts!