This is an archived article and the information in the article may be outdated. Please look at the time stamp on the story to see when it was last updated.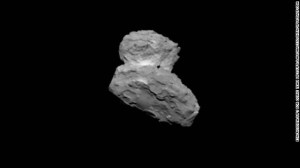 SPACE — How long and how far would you go for something you really, really wanted?
Chances are, the Rosetta Spacecraft has you beat. After 10 years and billions of miles, the European Space Agency announced that the craft just became the first probe to ever rendezvous with an orbiting comet.
To get there, the Rosetta clocked 6.4 billion kilometers, looping around the sun five times. This is actually the closest mankind has ever got to one of these things.
The ESA tweeted this photo of the comet, bragging about their up close and personal view. But no wonder they're celebrating — this mission was high stakes. If scientists hadn't gotten the probe's speed and trajectory just perfect to align with the comet's, all would have been lost.
Now, the spacecraft will follow the comet for more than a year, mapping and measuring the changes it undergoes as it gets closer to the sun.
We hope Rosetta packed some sunscreen.