This is an archived article and the information in the article may be outdated. Please look at the time stamp on the story to see when it was last updated.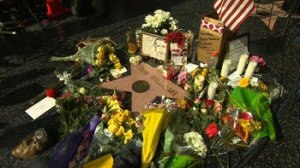 LOS ANGELES, CA — Investigators say Oscar-winning actor Robin Williams hanged himself with a belt.
At a press conference on Tuesday, Marin County Sheriff's Lt. Keith Boyd said Williams was found in his bedroom, clothed, slightly suspended in a seated position with a belt around his neck. The other end was between a closed door and the door frame.
There were also cuts on his left wrist and a pocketknife near his body.
Boyd says Williams was found by his personal assistant, who broke into his room Monday morning when he failed to respond to knocks. She was distraught in the 911 call and indicated Williams' death was a suicide by hanging.
"He has been battling severe depression of late," his media representative Mara Buxbaum told CNN. "This is a tragic and sudden loss."
Williams' wife says she last saw him alive Sunday night when she went to bed.
"I lost my husband and my best friend, while the world lost one of its most beloved artists and beautiful human beings. I am utterly heartbroken," Susan  Schneider said. "As he is remembered, it is our hope the focus will not be on Robin's death, but on the countless moments of joy and laughter he gave to millions."
"Robin Williams was an airman, a doctor, a genie, a nanny, a president, a professor, a bangarang Peter Pan, and everything in between," President Obama said in a statement. "But he was one of a kind. He arrived in our lives as an alien — but he ended up touching every element of the human spirit.  He made us laugh.  He made us cry.  He gave his immeasurable talent freely and generously to those who needed it most — from our troops stationed abroad to the marginalized on our own streets."