This is an archived article and the information in the article may be outdated. Please look at the time stamp on the story to see when it was last updated.
[protected-iframe id="80f06fa68b7e111214f69fba4e7dabec-66245013-47411866″ info="http://player.ooyala.com/iframe.js#pbid=71fea79861d14fce867bc2d59a66edd8&ec=ozcXM1eDr4sVTxIQ_zsmScbNti3yAKUX" width="770px" height="433px"]
OTOE COUNTY, Nebraska — As if watching "Mommie Dearest" isn't punishment enough, cops say a mom in Nebraska had her sons duct-taped to a chair and forced them to watch the film.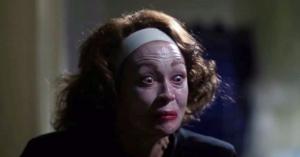 Apparently the 4 and 7-year-old boys called Mary Lucas the "meanest mommy," so she showed them just how bad things could get!
Thankfully, there were no wire hangers involved like in the chilling scene based on the life of actress Joan Crawford.
According to the arrest affidavit obtained by the Smoking Gun, the boys were home with Lucas' boyfriend, Glenn Oliver. Lucas asked him to put on the movie to teach the boys a lesson.
Well, they wouldn't sit still and watch, so Lucas says he taped them to the chair.
What an idiot.
"Meanest Mommy" and her beau are now both booked into the same jail facing felony child abuse charges.