This is an archived article and the information in the article may be outdated. Please look at the time stamp on the story to see when it was last updated.
DALLAS — Ah, those classic diners of the 1950s.
The Fells Point (from the movie 'Diner').
Arnold's (from 'Happy Days').
The Frosty Palace. (Did you know that was the name of the diner in 'Grease?')
And Norma's.
But only one of those is real.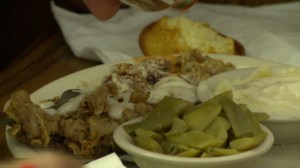 And it's the only one where you can re-live those 1956 prices, like $1.79 for a plate lunch, for their 58th anniversary.
It's good ol' traditional diner food.
"I like the apple pie," customer Russell Veytia said.
"Chicken Friend Steak, gravy, mashed potatoes, corn," customer Patricia Caravantes listed as her favorites.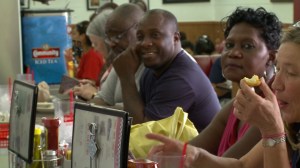 The counter at Norma's is full for a reason.  Comfort food!
You don't mess with a classic, right?
Tell that to Carl's Junior. That chain is throwing garlic mashed potatoes and gravy on their burgers. You read it right. Potatoes and gravy, on the burger!
And a California restaurant is offering fried chicken–coated with chocolate.
Hey, at Norma's, they've got a line of people waiting to get in the door. Will anyone line up for Choco-chicken!