This is an archived article and the information in the article may be outdated. Please look at the time stamp on the story to see when it was last updated.
KAUFMAN, TX — A church van, spray painted with a racist message, and a family's puppy poisoned. It's the kind of story that will make you furious, and it all happened in Kaufman!
"I'm wondering who really could've done that?" asked Pastor John Weaver, "It really disturbed me to see it like that because my grand baby's are there."
Pastor Weaver's granddaughters even fashioned a makeshift tombstone for their puppy.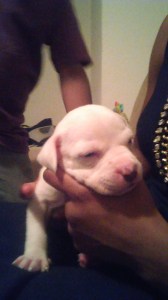 As for the van, it belongs to his church. It's purpose: to pick up members and bring them to church on Sunday mornings. Along with the message of hate, one of the van's tires was slashed.
Kaufman PD is working hard on the case to find leads and Kaufman Crime Stoppers is offering a $1,000 reward for information that leads to an arrest of the Racist Puppy Killers.
But for Pastor Weaver and his congregation, they're responding to this act of hate with love.
"I hope they will know that we love them and we will forgive them." said church member Margaret Pipkins, "We hold no hate in our heart."
"You can't retaliate behind nothing like this, all you can do is pray." said Pastor Weaver, "Continue to pray and pray for the one's that did it also. Cause people's lives change."
The folks over at New Life Full Gospel aren't going to let this attack change their plans come Sunday mornings.
"We'll be rolling, Sunday we'll be rolling." said the pastor.
That's right, a message made to scare and hate, doing nothing but causing love and courage! That's turning the other cheek!