This is an archived article and the information in the article may be outdated. Please look at the time stamp on the story to see when it was last updated.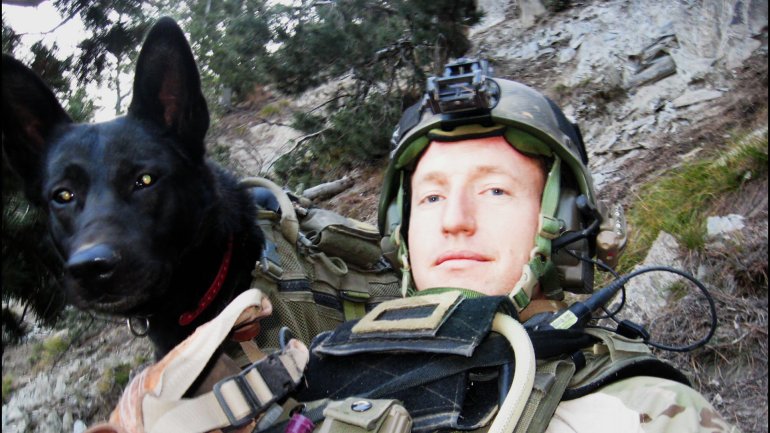 Channing Tatum is used to sharing himself with the public.
As one of the most recognizable stars in Hollywood, it's not a foreign experience for him to be probed for answers on every aspect of his personal life. But for "War Dogs," a new HBO documentary about veterans and the bonds they share with the furry friends with whom they have served, Tatum and his fellow producers put in front of the camera a group of people who aren't used to being an open book.
"I'm a person that has to talk about my life and share my life all the time with people," Tatum told CNN. "I just can't imagine what it's like for these guys who experience these things and are not only not used to talking about it, but they're not supposed to talk about it."
The documentary is a tear-jerker to say the least.
It tells the stories of three men who formed special connections with the brave dogs with which they were paired while serving the country overseas.
Among those featured in the documentary is one man who tries to reunite with his dog who he has not seen since the man was injured in action. At the time of filming, the dog is living with the family of a police officer, and they are reluctant to give the dog back to her partner.
Another man featured in the film talks about the devastating loss of his heroic K-9 during a treacherous mission.
Another speaks of his dog's role in his post-war life; both the man and his dog continue to carry an emotional and physical toll from their time serving.
The documentary, which Tatum produced with longtime producing partner Reid Carolin, was meant to shine a light on two very different — and, also, strangely similar — types of veterans.
Tatum, who describes himself as a "massive dog person," was moved when he first heard about the unique story of the men and "extraordinary" animals who serve together. Seeing those ties first hand was also an eye opening experience, Tatum said.
"The dogs were so much gentler [than I expected] and not just these machines, killing machines. They were very, very intelligent and highly evolved creatures," he said. "The connection and bond they had with their handlers just showed how much they weren't just some animal. They were a being that had thoughts and feelings and a consciousness."
For Carolin, the surprise was seeing what the dogs brought out of some of the military's most elite soldiers.
"You don't imagine them as these soft, puppy-dog lovable open emotional people who can break your hearts, but the dogs bring this out in these guys," he said. "They bring out the sides of them that are super vulnerable and really connect us to these people who are serving on our behalf."
Carolin hopes the documentary shows that "the line between animals and humans as a little bit more thin." Tatum shares that sentiment.
"The bonds between man and animal can be just as deep as human-to-human and just as precious," he said.
The documentary is available now on HBO's on-demand platforms. HBO, like CNN, is owned by TimeWarner.