This is an archived article and the information in the article may be outdated. Please look at the time stamp on the story to see when it was last updated.
DALLAS -- NewsFix paid a visit to a Denton small business after they gave them a call to help spread a message.
The owner of PNEO,  Charlotte Wenham told NewsFix they got a big shipment of counterfeit products from Amazon that could possibly be dangerous.
"The challenge that we have is they actually look pretty real," Wenham said.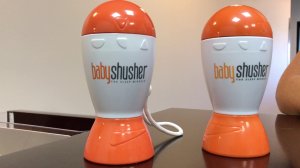 One of the products that they distribute is the Baby Shusher. It makes a long drawn out noise to put babies to sleep.
"It works really well we have hospitals that use it, pediatricians, photographers," says Wenham. "The internals don`t work the way they should, and we have actually received reports that people have received corroded batteries, wires protruding, or they simply don`t work."
Thankfully, Wenham says they noticed right away, but says you may not.
"My biggest concern is that customers were no longer going to trust the Baby Shusher.'
While there are ways to spot a fake, Wenham says it`s best to only buy from an authorized seller or the manufacturer themselves, regardless of what you`re buying.
"As a parent, I want to know what I am using is safe and effective, that`s my number one priority. I want to keep my kids safe."
The kicker? Wenham says the fakes they got were only about a buck cheaper than the real ones. We'd say safety is worth the extra dollar.
She says their company has reached out to Amazon. Here's the seller forum they posted.
On Baby Shusher's website they address the issue also. Their website reads:
"We are aware there are a limited number of sellers permitted to sell counterfeit Baby Shusher on Amazon.com since the end of March 2018. Our product safety team are been working hard to remove these from circulation and ensure that only safe, genuine Baby Shushers can be purchased.

Amazon.com, to our knowledge, is the only channel that offers counterfeit units to be sold. If you have purchased a Baby Shusher on Amazon.com within the last 2 months and are concerned that you have received a counterfeit product, we are here to help."
A spokesperson for Amazon says, "Amazon and pNeo are on the same side. We invest tremendous resources to protect our marketplace from inauthentic goods and will continue to work with pNeo to protect its intellectual property and our customers."
The spokesperson from Amazon goes on to say they have a policy about counterfeit products. "Our customers trust that when they make a purchase through Amazon's store—either directly from Amazon or from one of its millions of third-party sellers—they will receive authentic products, and we take any claims that endanger that trust seriously. We strictly prohibit the sale of counterfeit products and invest heavily—both funds and company energy—to ensure our policy against the sale of such products is followed. Our global team is available 24 hours a day, 7 days a week to respond to and take action on reported violations and notices of potential infringement.
In order to detect bad actors and potentially counterfeit products, we make significant investments in machine learning and automated systems. We employ dedicated teams of software engineers, research scientists, program managers, and investigators to operate and continually refine our anti-counterfeiting program. When a business registers to sell products through Amazon's Marketplace, Amazon's systems scan information for signals that the business might be a bad actor, and Amazon blocks identified bad actors before they can offer any products for sale. Amazon's systems also automatically and continuously scan numerous data points related to sellers, products, brands, and offers to detect activity that indicates products offered might be counterfeit. Over 99.9% of all Amazon page views by our customers landed on pages that did not receive a notice of potential infringement.
We also work closely with vendors, sellers, and rights owners to strengthen protections for their brands on Amazon. Any rights owner can enroll in Amazon's Brand Registry to manage and protect their brand and intellectual property rights on our store. More than 60,000 brands are enrolled in Brand Registry and are using our free service to better protect their brand and control product information displayed on Amazon—this means brands can ensure their information is accurate and customers can make confident, informed purchasing decisions on Amazon.
We encourage rights owners who have product authenticity concerns to notify us; we investigate all claims thoroughly. We remove suspected counterfeit items as we become aware of them, and we permanently remove bad actors from selling on Amazon. Amazon investigated and took action on 95% of all notices of potential infringement received from Brand Registry within eight hours. With our proactive innovations that learn from the information in Brand Registry, brands in Brand Registry on average are finding and reporting 99% fewer suspected infringements than before the launch of Brand Registry. We have also successfully taken legal action against bad actors and will continue to pursue litigation and work with law enforcement where appropriate."