This is an archived article and the information in the article may be outdated. Please look at the time stamp on the story to see when it was last updated.
A California community is recovering on Wednesday after a gunman went on a shooting rampage killing at least five people and injuring 10 others.
Police say they believe the suspect's wife was his first victim.
"We located her dead body concealed under the floor of the residence last night," Tehama County Assistant Sheriff Phil Johnson said. "We believe that's what started this whole event."
His sister, Sheridan Orr, says her brother never had good coping skills.
"He had this tendency to fly off of these uncontrollable rages  and it just could've been anything in that situation," she said.
Cops say Kevin Neal drove around Rancho Tehama in a stolen truck on Tuesday,  randomly shooting at people and into houses.
"I thought hammering," one resident said. "I thought someone was putting up Christmas decorations, there was a lot of gunfire."
The gunman tried to get into an elementary school but it was on lockdown. He opened fire anyway.
"Our teacher told us to go under our desk and to keep calm and lay flat just in case like he comes inside," fourth grader Arianna Ybaraa said.
Officers shot and killed Neal.
They found a semi automatic rifle and two handguns  at the scene.
President Donald Trump went on Twitter hours later to send his condolences, but he referenced the wrong mass shooting.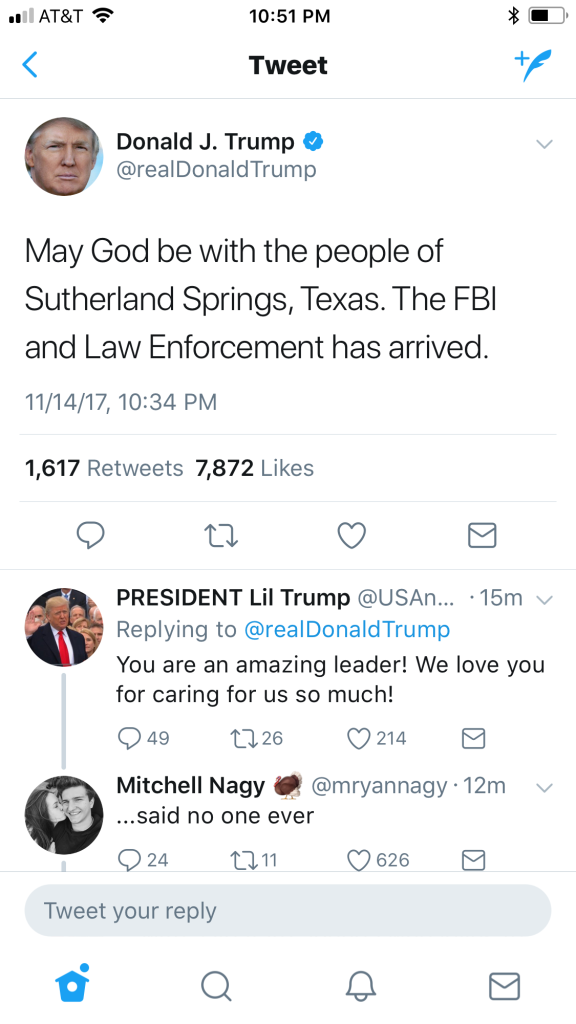 The post was deleted the next morning, but  not before it was slammed by Twitter users.
Did u just copy & paste this & forget to change the city?

— Joseph Michael Cannon (@cadillaccannon) November 15, 2017
This tweet was sent 2 hours ago.
The shooting in Sutherland Springs happened on November 5th, which was 9 days ago.

I hope the FBI and law enforcement didn't take that long to arrive. https://t.co/8bYtCg0iuO

— Frank Luntz (@FrankLuntz) November 15, 2017
https://twitter.com/vbosch/status/930659624092549120