This is an archived article and the information in the article may be outdated. Please look at the time stamp on the story to see when it was last updated.
DALLAS, TX — Who wants some cake?
Well, you won't have to wait much longer. Buddy Valastro — yes, the Cake Boss himself — is opening his Carlo's Bakery this Saturday in Preston Center.
And guess who got a special sneak peek before the doors officially open? That's right, your friends here at NewsFix.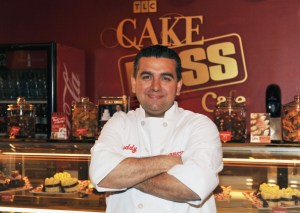 Buddy's sister Grace Faugno gave us the nickel tour.
"We are expanding and we think Dallas is a great place," Faugno told NewsFix. "We came to visit, we love the feel, we're moving in and we're starting to make it feel like home."
Carlo's is moving into the old La Madeleine on the corner of Northwest Highway and Preston Rd.
"We've been around for over 100-years, and we wanted to keep some of the features of an old school bakery. So, we have some of the simple touches, like our whisks our sign that we're very proud of that bears the Carlo's name," Faugno said of the decor that adorns the bakery.
"Whenever you come into Carlo's Bakery, you have to know we're old school and it's all about la familia. "These are Buddy's kids," she said pointing to the family pictures hanging on the walls inside the bakery. "That's Buddy when he was younger, that's my sisters and I. The bakery is filled with lots of love."
The display cases are empty… for now. Faugno says they'll be filled before the week's end, just in time for the grand opening when she'll be joined by her brother, Buddy.
"We think Texas is going to love our famous cannolis — that's a Carlo's must-have! And our signature pastry is the lobster tail."
On the Monday of our visit, the newest Carlo's bakers were being prepped on how to make apple turnovers. We also spotted another famous face in the building — Frankie Amato, Jr. He's Buddy's cousin, baker, right-hand-man and on this day — he was hanging pictures on the wall.
"This is my first time in Dallas and we've gotten a very big and extremely warm welcome," Amato told NewsFix. "We're excited to be here!"
Carlo's Bakery opens Saturday morning at 8:30. We're guessing you can expect really long lines.