This is an archived article and the information in the article may be outdated. Please look at the time stamp on the story to see when it was last updated.
Are you ever looking for a place to grab a late brunch? One of the hip places in West Dallas drawing all types of folks for brunch is Smoke.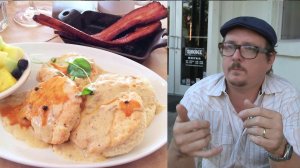 "It's so busy. It's so exciting to be here. The cool part about it is everybody piles into the restaurant," Creator and Cheff Tim Byres said.
He feels it's the homemade, handmade feel of the food that is the major draw.
"The big part is, it is this high handmade high integrity kind of breakfast. Home made breads and biscuits home made jelly and jam , home made bacon, home made sausage, home made ham. It's  eating like your grandparents might have."
Located next to the iconic Belmont Hotel, Smoke is in an area that it becoming revitalized.  And Tim has been excited to see the change.
You don't have to wait for Brunch to come here. With a mix of smoked meats, southern and Mexican influence, there is a little bit of everything for everyone.
Sept 2014 – Tim Byres was nominated Best Chef In Dallas in the Observers Best of Dallas Issue.