This is an archived article and the information in the article may be outdated. Please look at the time stamp on the story to see when it was last updated.
DALLAS - Government documents released Thursday show that a single Blue Bell Creameries plant in Oklahoma tested positive for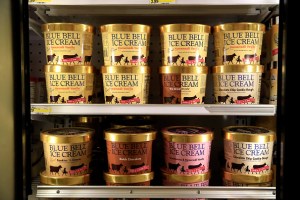 Listeria 16 times since 2013.
Federal inspectors also detail a host of unsanitary conditions as recently as last month.
As you know, Blue Bell recalled its entire line of products last month and shut down all of its ice cream plant, including the one in Texas, to clean up.
Equipment at the Broken Arrow, Oklahoma plant tested positive again for listeria as recently as March 25, according to an 11-page report from the Food and Drug Administration.
Inspectors found that the company's process for sanitizing equipment was inadequate. The plant failed to monitor the temperature of water used to clean equipment. Additionally, the building itself wasn't constructed in a way to prevent drips and condensation from contaminating ice cream and packaging materials, the report stated.
In March, inspectors observed that employees were not washing their hands thoroughly. Employees were also seen "traveling from sanitary food production areas to non-sanitary areas including ... outside smoking areas ... without cleaning and sanitizing prior to re-entry into the sanitary food production areas."
Problems were also found at Blue Bell plants in Alabama and Texas.
An FDA inspector recently saw an employee of the Sylacauga, Alabama facility "touching their visibly damp" pants. "The employee then proceeded to load sleeves of lids ... during production of vanilla and chocolate ice cream without washing hands or changing gloves."
Blue Bell, in a statement Thursday, said it believed that its "cleaning process took care of any problems" found in 2013. "But in hindsight, it was not adequate, which is why we are currently conducting such a comprehensive re-evaluation of all our operations."
The Centers for Disease Control found last month that the Listeria outbreak that prompted the recall dates to 2010.
Officials believe that three people in Kansas have died in the past year due to Blue Bell products contaminated with listeria, according to the CDC. Additionally, one person became sick in Arizona, five in Kansas, one in Oklahoma and three in Texas.
The FDA documents released Thursday followed Freedom of Information Act requests from media organizations.