This is an archived article and the information in the article may be outdated. Please look at the time stamp on the story to see when it was last updated.
NASHVILLE, Tenn. -- Another Hollywood couple bites the dust. Turns out, the rumors were true; Blake Shelton and Miranda Lambert are the latest celebrity couple to move to Splitsville.
That's right, the country crooners are getting divorced.  The split comes just four years after the couple vowed 'til death do us part.' They met back in 2005, and even co-wrote a song together.
Let's face it, it hasn't been an easy marriage; the singers always denied rumors of cheating and trouble, and they've openly admitted their work keeps them separated.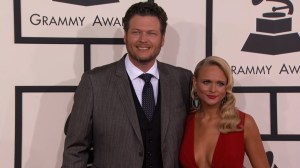 According to TMZ, the judge signed off on the divorce Monday afternoon. It comes just hours after the country music stars announced their breakup.
"This is not the future we envisioned and it is with heavy hearts that we move forward separately.  We are real people, with real lives, with real family, friends and colleagues.  Therefore, we kindly ask for privacy and compassion concerning this very personal matter," the couple's representatives said in a statement to the Associated Press.
TMZ reports Blake filed for divorce two weeks ago. There apparently is a shorter waiting period in Oklahoma for divorces.
In an US Weekly article, the mag reports Shelton has been keeping busy by focusing on his music. Hmmm..perhaps he'll need more than 'Sangria' to get over this breakup.
As for the North Texas native, her Twitter profile pic is of her and her no ex-hubby. Heck, even Shelton has a pic of Miranda on his page, too.
Miranda will reportedly keep their Nashville mansion, and Shelton will stay with the ranch in Oklahoma.
Wow, guess you can take the "L" outta lover because this relationship is over.