This is an archived article and the information in the article may be outdated. Please look at the time stamp on the story to see when it was last updated.
COMMERCE, TX – The winner of Miss Black Texas 2016 says she was harassed, unlawfully arrested, and detained by a North Texas police chief. If that's not bad enough, she also says he called her a "black b*tch."
Carmen Ponder, a recent graduate of Texas A&M University, tweeted she experienced "road rage" from the police chief of Commerce, Kerry Crews, on Tuesday.
Police brutality and Abuse of Power from a Police Chief. Let me talk to my lawyer and I'll fill y'all in #blacklivesmatter

— Carmen Sensei (@CarmenSierraaa) May 22, 2017
According to Ponder, she was on her way to Walmart when she encountered a black truck driving erratically in front of her. She says she decided to pass the vehicle to avoid potential danger because she believed the driver to be drunk.
She realized the vehicle had followed her after parking her car outside of Walmart. Crews, who allegedly identified himself as police, yelled at her for passing his 14-year-old daughter who was learning how to drive at the time.
Ponder reminded Crews that it's illegal for a 14-year-old to drive, leading Crews to allegedly call Ponder a "black b*tch."
After the confrontation, Ponder entered Walmart, purchased her items, and headed back to her vehicle when Crews, his daughter, and another man confronted her.
According to Ponder, the man informed her that Crews was a police chief and suggested that she apologize to him. Ponder refused and called the police.
When police arrived on the scene, the man who approached Ponder allegedly told them that she was resisting arrest and instructed police to arrest her.
Ponder was arrested and detained for 24 hours. She was charged with evading arrest.
She posted her encounter on Twitter:
— Carmen Sensei (@CarmenSierraaa) May 24, 2017
Ponder is calling for her charges to be dropped, Crews to be fired, and disciplinary action for other involved officers.
Commerce police released a statement on Thursday, claiming Ponder's statements do not match  Crews'.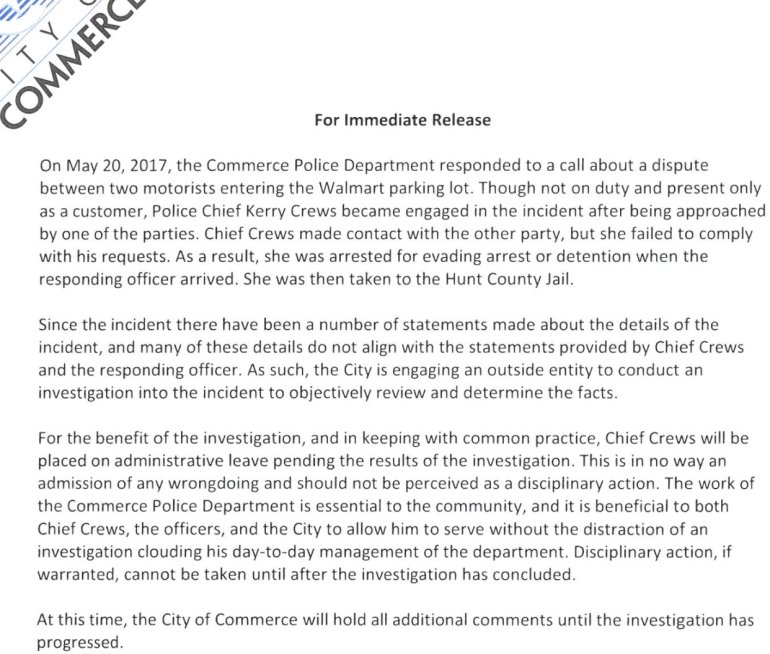 It seems we have a classic "he said, she said" situation on our hands.