This is an archived article and the information in the article may be outdated. Please look at the time stamp on the story to see when it was last updated.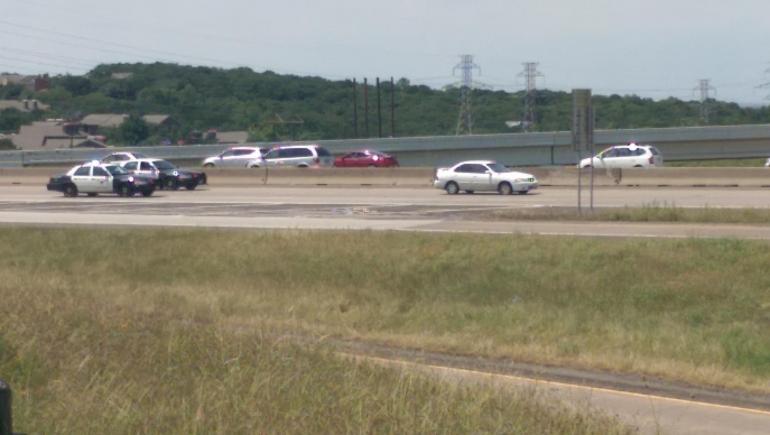 FORT WORTH – What started as a very slow-speed chase in Fort Worth took a dangerous turn Wednesday afternoon forcing  SWAT to take this guy down.
And when we say slow, we mean slow! Try 5-10 mph.
The suspect creeped down eastbound I-30 for nearly two hours, paralyzing traffic. Drivers actually  jumped out their cars, lined up along the highway to see what was going on.
https://instagram.com/p/3MqIvPt3kM/
<ctd 2> citizens: for your safety, please do not stop to take pictures, stay in your vehicle.

— Fort Worth Police (@fortworthpd) May 27, 2015
Things got wild once the unidentified suspect hit Arlington, picked up speed, turned off into a residential neighborhood, and even went the wrong way before jumping back on the highway.
Did we mention this all was going on with one of his tires blown out?
SWAT eventually said "enough is enough" and conducted a PIT Maneuver, bringing this chase to  a dramatic end right in the middle of the highway near Six Flags.
It's unclear what set off this chase in the first place.
Loser driver in police chase on I 30 posing for photos as he drives past folks watching? It's over, y'all..take em down #FortWorth #DFW

— Chris Krok (@chriskrokshow) May 27, 2015
I'm trying to watch @TheEllenShow and some idiot going 5 mph in a car chase is preventing that #dallas #fortworth

— Ian Lucas (@ian_lucas_) May 27, 2015