This is an archived article and the information in the article may be outdated. Please look at the time stamp on the story to see when it was last updated.
[protected-iframe id="ea86cb345f18b3186fd8cbf13a3a823b-66245013-41938752″ info="http://player.ooyala.com/iframe.js#ec=12aWIxczqIUub4louu13RFfrccIj6IGm&pbid=f2605fb46a6e47afab7be3fd7032bb72″ width="770px" height="433px"]
ATLANTA, Ga. — Two new bills working their way through the State Legislature in Georgia are causing controversy after a liberal advocacy group took out full-page ads attacking them. The bills could allow people to claim that their religious beliefs make them exempt from parts of the law. The group Better Georgia sponsored an ad saying people charged with crimes like domestic violence could cite their religious beliefs as a defense. Opponents of the measure feel the bill would also legitimize discrimination in the work place and allow businesses to refuse service to minority groups.
MORE: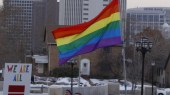 Mormon Church Backs Gay Rights, With One Condition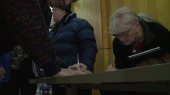 Signed & Delivered: Plano Equal Rights Policy Petition Submitted