This is an archived article and the information in the article may be outdated. Please look at the time stamp on the story to see when it was last updated.
DALLAS – The radio is set to a classical station and there are plenty of first class treats.
Yep, the most pampered pooch in Dallas has to be Bentley, the King Charles Spaniel that belongs to nurse Nina Pham.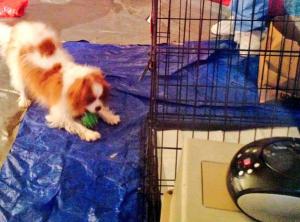 She was flown to a hospital in Maryland Thursday equipped with state of the art isolation union, leaving folks tweeting — "what about the dog?!"
Don't worry, y'all. Doggie quarantine is treating Bentley like its new best friend. He's getting lots of peanut butter and plush toys to keep him entertained. Although we doubt he's seen the latest stuffed toy that looks like the Ebola virus. Yeah, you can't make this stuff up.
Anyhoo, back to Bentley. He may be getting his hugs from a vet in a spacesuit, but he's been through some "ruff" times before.
Turns out, he's a rescue dog saved from a puppy mill.
No word yet on what it will cost to keep Bentley in isolation for 21 days, but a fund has been set up to cover his expenses at DallasAnimals.org.
Once he tests Ebola free, it's back to a dog's life for this pup.