This is an archived article and the information in the article may be outdated. Please look at the time stamp on the story to see when it was last updated.
DALLAS —  We've seen our fair share of hecklers — from "Don't tase me bro"…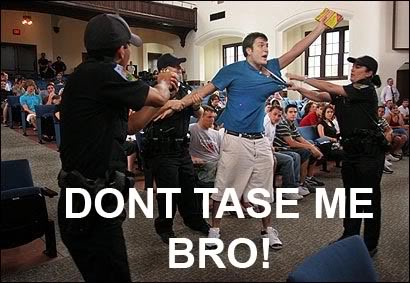 To the guy who threw not one, but TWO shoes at George W. Bush… (DUCK!)
Now, Marco Rubio joins the pack of politicians to deal with a heckling hater. Yep, a guy shouted anti-Semitic remarks at the Republican wannabe president during a rally in Dallas Wednesday night.
"Marco Rubio is owned by Jews! Jews! And Free Masons," the man screamed.
It didn't take long for security to body slam the guy… then drag him kicking and screaming out of the ballroom of the Westin Dallas Park Central Hotel.
The Florida Senator joked the next time he encounters a heckler, he'll just AWKWARDLY sip water like he did during the GOP response to President Obama's State of the Union address.
HA!