This is an archived article and the information in the article may be outdated. Please look at the time stamp on the story to see when it was last updated.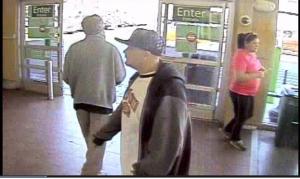 FORT WORTH, Texas — Wanna make some quick cash? Well, don't ask this guy for advice.
James Anderson is now in jail after Fort Worth police say he went on a wild two-day crime spree, robbing seven people in broad daylight.
Cops say it all started Monday when Anderson hit up a Walmart parking lot on Berry Street in Fort Worth. Victim #1 handed over everything — including her car keys — turning her Dodge Ram into a set of hot wheels.
The second victim was a mom with two kids on Trail Lake Drive.
Next stop, the Home Depot on White Settlement where this time, the victim was stabbed in the back.
Cops say he then hit up another Home Depot  on South Freeway. Hey, it worked before. Another victim robbed.
Well, maybe this guy needed a break. The fifth robbery happened the next morning at a Chevron gas station in Euless.
So, what would you do if you had a lot of loot? Looks like Anderson headed to Oklahoma, but that's where his luck ran out. Cops tracked him down at Winstar Casino.
Yep, this gamble didn't pay off.