This is an archived article and the information in the article may be outdated. Please look at the time stamp on the story to see when it was last updated.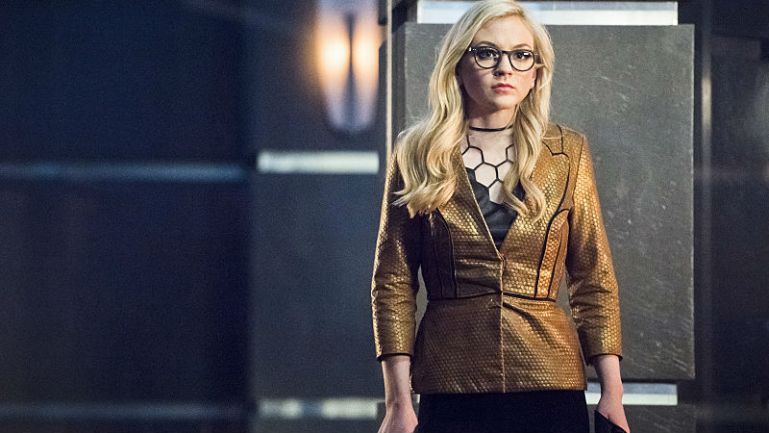 Now that "Arrow" has seen the return of the Bug Eyed Bandit (Emily Kinney), a villain that first originated on "The Flash," is it game on for the shows sharing even more characters?
The Bandit isn't the first person to jump from one show to another — here's looking at you, Clock King (Robert Knepper) — but could she be the one that blows the doors wide open for villains to hop between shows? "Arrow" executive producer Marc Guggenheim certainly thinks so.
RELATED: 'Arrow': Felicity leaving the team will have 'consequences'
"I gotta say, when we saw the first cut of episode 17 with Emily [Kinney], we all sort of felt like, 'Oh wow! Without us sort of designing it to be so, this was good proof of concept that we can do this,'" he says. "Bringing on other characters from 'The Flash' is totally a possibility."
But now you have to wonder who would be a good fit for that show? With an endless supply of baddies making their way through "Arrow," chances are superpowered metahumans would be a bad idea. They're mostly locked up in the STAR Labs meta prison and Team Arrow might not be up to the challenge of something like King Shark coming to Star City.
RELATED: 'Arrow': Stick a fork in Olicity, they're done
One really interesting possibility though isn't a foe, but an ally. After Barry's (Grant Gustin) latest jaunt back in time on "The Flash," Hartley Rathaway (Andy Mientus) — the one-time Pied Piper — is no longer a bad guy, but rather someone working with Team Flash.
He's got a big brain and could be of some use to Felicity (Emily Bett Rickards) in the future. Perhaps he will jump between shows.